---








---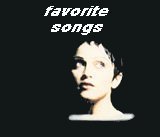 This section lists my favorite Madonna songs. If you would like to tell me your favorites and have them up on the page, please write me.
E-Mail: stepper@geocities.com
Favorite Madonna Songs (10-15)
-Open Your Heart-

- Madonna, Gardner Cole, Peter Rafelson -

True Blue

This used to be my favorite Madonna song because it's
an awesome pop song that's stylish and extremely
catchy. I still enjoy it and it reminds me of my childhood,
when I grew up on True Blue.

-I'll Remember-

- Madonna, Patrick Leonard -

With Honors OST

"I'll Remember" is a beautiful song, that I've grown to
love more, each time I hear it. It's got a unique beat
and some beautiful, sad lyrics. However, there is a
feeling of optimism despite the sadness of the loss
of Madonna's mother.

-Keep It Together-

- Madonna, Stephen Bray -

Like A Prayer

"Keep It Together" is another fine dance track from the
phenomenal Like A Prayer. It's a refreshing song
with a great positive, yet simple message about family
that comes out as funky and fresh, instead of preachy
and boring. It's never tiring to dance to a song like this.

-Human Nature-

- Madonna, Dave Hall, S. McKenzie

K. McKenzie, M. Deering -

Bedtime Stories

I remember a couple of years back when this video
came out. I really loved this song and it was so funny.
I didn't understand how this song meant but nonetheless
I loved it and now, that the lyrics make sense, I must
say that this is one of Madonna's finest singles: catchy
and tongue-in-cheek.