---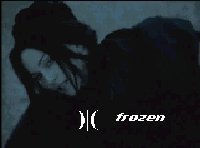 Frozen is the first single from Madonna's critically-acclaimed album Ray Of Light The video is directed by Chris Cunningham, filmed in the desert. Frozen is one of Madonna's most beautiful and most successful singles of the 90's. It peaked at #2 on the Hot 100 Singles chart, back in the Top 5 after 3 years. It was also her first #1 hit in 8 years in the UK and is a Top 5 worldwide smash.
Ray Of Light, the title track from Madonna's double platinum album of the same name, is now serviced to US radio and on heavy rotation on MTV. It is a Breakthrough Clip. It is a video and song where Madonna returns home to her roots in dance music. It is currently #47 on the Billboard Hot 100 Airplay chart and should be on the big chart in June. Let's hope it gets to #1 so keep requesting this great single on your radio stations.
Ray Of Light Single
Release Dates:
MTV Premiere: May 12, 1998
Airplay: May 4, 1998
Single: June 2, 1998
Maxi Single: June 2, 1998

The album Ray Of Light and the singles Frozen and Ray Of Light are out. Get them now.